NanoAvionics, a nanosatellite bus manufacturer and mission integrator, is expanding its space sector business in the UK.
The company is  moving to a new, larger facility for satellite assembly, integration and testing (AIT) as well as sales, technical support and R&D activities in Basingstoke.
Having already developed a hub in Lithuania and two in the US, the move is a first step for its UK growth plans by creating jobs in the space sector and a local technology cluster with a dedicated supply chain of companies in the UK.
The new facility will allow NanoAvionics to keep thriving and provide nanosatellite AIT services to its growing and existing customer base in the UK.
NanoAvionics' customers in the UK include IoT connectivity provider Lacuna Space and Sen, a space company developing its "EarthTV" constellation to stream real-time and timely Ultra-High Definition (UHD) videos of Earth.
"Following the establishment of our first office at Harwell Campus last year, NanoAvionics is now further expanding its business in the UK by investing in this new AIT facility, creating jobs and by developing a technology cluster and supply chain, similarly to what we have done in Lithuania and the USA," said Vytenis J. Buzas, CEO of NanoAvionics. "To grow our Satellite production capabilities locally, we are going to connect with companies in Britain such as printed circuit board suppliers, electronics manufacturers, cable assembly providers, producers of mechanical components and surface treatment providers."
As a result of its ongoing geographical expansion and strong contract volume, NanoAvionics announced a significant revenue increase by about 300% during the last 12 months in August this year.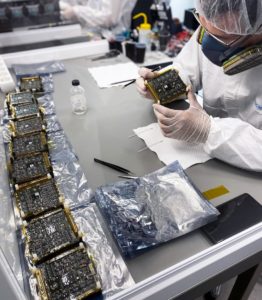 Heading the company's operations in the UK is Robin Sampson, business development manager for NanoAvionics UK and Western Europe.
He said: "The ambition which the UK has shown in competing within the global space industry resonates with NanoAvionics and brought us to the UK in the first place. One of the reasons that we've doubled-down on our investment in the UK, is that we see the potential to conduct world-class industrial research and development here. 5G telecoms and IoT technologies are set to play a big part in all of our futures and NanoAvionics is well equipped to support and benefit from the UK's positioning in this key enabling technology and we look forward to connecting with the 5G Innovation Centre at the University of Surrey.
"NanoAvionics has also played a key role in enabling chemical propulsion systems on 6U nanosatellite systems, and we have developed some world-class IP in this area. This is something we now seek to develop further with stakeholders at the UK National Propulsion Test Facility.
"Basingstoke is a great location for us because it offers a good and quick connection to other important locations in the UK. And Belvedere House, in the town centre of Basingstoke, offered NanoAvionics a suitable space to install a cleanroom and all the necessary equipment for our nanosatellite production, with an opportunity to scale. I'd particularly like to thank Enterprise M3 for their help in enabling our move."
The official opening of NanoAvionics' new facility will take place on 19th November.
+info: www.nanoavionics.com